Beautiful home with amazing ocean and mountain views within Costa Rica's premier master-planned community
ID CODE: #3676
Sales Price: US$699,000
Land: 4,000 m2 (1 acre)
Construction: 350 m2 (3,770 sq.ft.)
Bedrooms: 3
Bathrooms: 2.5
Parking: 4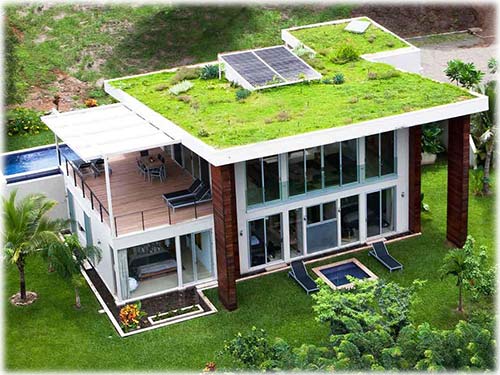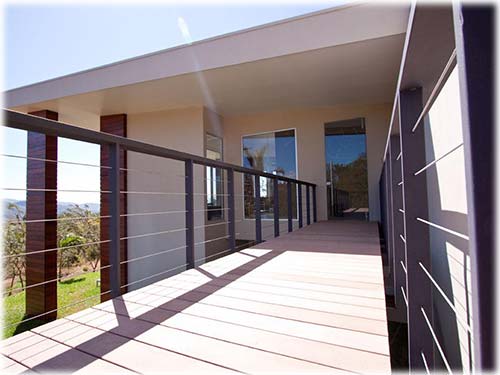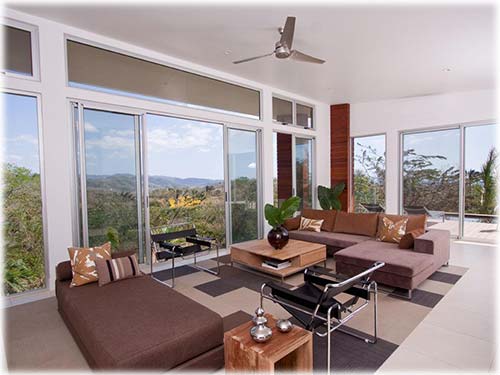 Click on the pictures to enlarge
Why not own a home located in a luxury two-time award-winning master-planned community in Costa Rica's most desirable location?
This beautiful 2-story, 3-bedroom residence with 3,750 sq. ft. of living space features every convenience you could want, with a resort-style master suite, a spacious living room, large terraces, even a green roof-garden with jaw-dropping views of the Pacific ocean.
The green roof garden and natural building materials effectively transform this beautiful luxury home into a two-storied extension of a hillside. The seamless fusion of the outdoors and indoors make the home a beautiful addition to the amazing scenery of a lush Costa Rica community comprised of modern masterpiece homes.
Key features of this magnificent villa include:
A two story open floor plan
10 foot high ceilings
A spectacular infinity pool and outdoor shower
European telescoping pocketing aluminum sliding doors to blur the line between indoor and outdoor living
Green landscaped roof system by Carlyle that provides superior insulation to keep the house cool
QUICKLY RISING HOME VALUES
Thanks to the many affluent American families who've chosen to live in the Nosara region, growth is forecast to continue to propel real estate values. To preserve the spectacular natural beauty, dense development is prohibited near the beaches or into the sea.
OPTION FOR HIGH RENTAL OCCUPANCY—WITH AN AVERAGE OF $300-$600 A NIGHT
You'll have the option of including your property in the rental pool when you're not in the residence. Your home will be rented to visitors and meticulously managed by the resort manager. You simply enjoy the income.
The resort will fully manage and meticulously maintain your home and, if you wish, even rent it out to high-paying vacationers at an average of $400/night and up to $800/night during the holiday seasons.
There is plenty of room for revenue growth because the resort's vacation rentals are fully established. The resort property manager, who is on-site 24/7, is ready to market your home for rentals and check-in guests. These high-level resort services are provided to you since the home is already under the Resort Rental Program. The resort does all the work. You simply enjoy the income.
In addition to the rental income you can enjoy, there is, of course, the added benefit that you have a beautiful home to visit and stay in whenever you want, and enjoy the beaches and other natural wonders of the Nosara area. It's an especially inviting opportunity for you to take a break from winter weather in North America whenever you want.
Find out what makes this Home so special, inquire today.