Luxury ocean-view home in a stunning master-planned community — with strong rental income
ID CODE: #3675
Sales Price: US$787,000
Land: 2,200 m2 (over 1/2 acre)
Construction: 450 m2 (4,750 sq.ft.)
Bedrooms: 3
Bathrooms: 2.5
Parking: 4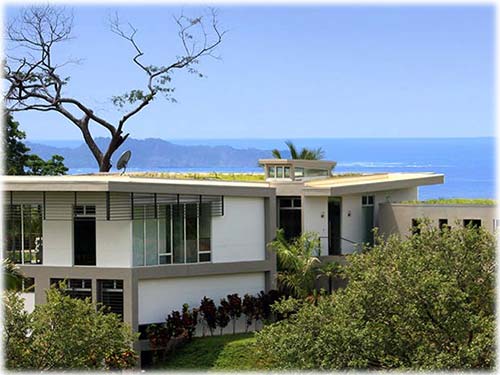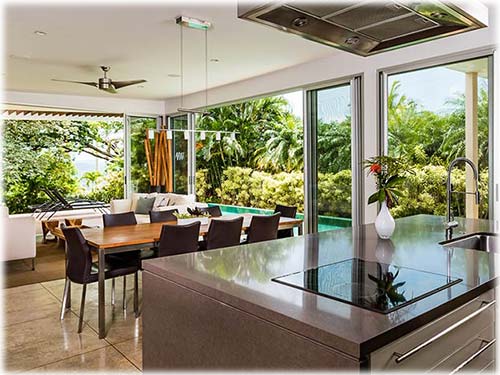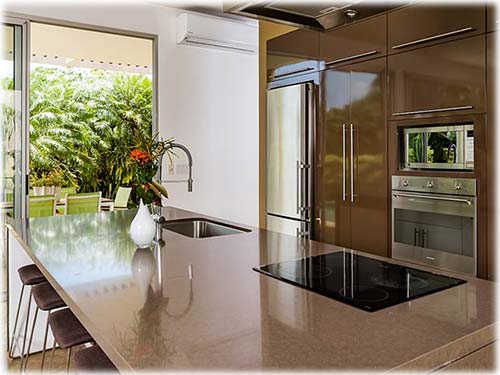 Click on the pictures to enlarge
Own this stunning modern masterpiece with open spaces and breathtaking ocean views. Enjoy it when you're here, earn impressive rental income when you're away.
THE ULTIMATE IN AFFORDABLE LUXURY
If you're looking for a stunning vacation home, second home, or plan to retire within the next several years, now is the time to grab this extraordinary residence in Costa Rica's fastest-growing resort community – all at a fraction of the cost of comparable homes in the U.S.
The home is located in a luxury two-time award-winning master-planned community, in Costa Rica's most desirable location.
This luxurious 2-story, a 3-bedroom architectural masterpiece with 4,750 sq. ft. of living space features every luxury you could want, with a resort-style master suite, a spacious family room, and large terraces with jaw-dropping views of the Pacific.
Imagine yourself relaxing by your own pool, enjoying the breathtaking ocean views that stretch out before you. A beautiful landscape garden surrounds you with colorful flowers and swaying palm trees. In the valley below you, views of stunning shades of green surround you with the sounds of tropical, exotic birds.
AN ARCHITECTURAL MASTERPIECE WITH JAW-DROPPING VIEWS, WITHIN A COMMUNITY OF ESTATES SELLING FOR $2 MILLION+
With its contemporary, open design, this architectural masterpiece complements its surroundings with a design that allows you to invite the incredible views into the living spaces through panorama sliding walls of windows. With its perfect position on the ridge and the distinct architecture, the spacious living areas transition effortlessly between interior and exterior living, allowing light mountain breezes and natural light into every room.
The main floor has a handsomely equipped state-of-the-art kitchen. The extra-large master suite is wrapped by walls of glass windows and doors that enhance the magnificent views you enjoy from nearly every angle.
FULLY FURNISHED
The home comes fully furnished with high-end furniture valued at more than $118,000. What's more, the construction and finishes throughout this home were chosen with the utmost luxury in mind.
COSTA RICA'S MOST DESIRABLE LOCATION
This stunning home is located just minutes from the center of Nosara, one of Costa Rica's most popular and affluent oceanside towns. Imagine a small, beautiful beach town surrounded by tropical trees, plants and wildlife with a peaceful multicultural community and many of the luxuries and comforts of home. Nosara is a charming beach town so breathtaking it was named by National Geographic as one of the world's "must-see" destinations, chosen by The New York Times as a top worldwide destination, and featured on the Travel Channel for its spectacular natural beauty.
Americans who live here will tell you there's no better place on earth. To understand why many consider Nosara the ideal place to own a second home or relocate abroad, simply walk down the roads of Playa Guiones, pop into an organic café, take a class in one of the many exceptional fitness centers or yoga studios, surf the clean consistent waves, wine and dine in one of the many gourmet restaurants, or watch a stunning sunset.
A MAGNIFICENT LIFESTYLE
And to make the most of the location, this home is within Costa Rica's fastest-selling resort community, which features ocean-views that will take your breath away. A two-time award-winning, a master-planned community comprised of award-winning design masterpieces with all the luxuries you can imagine — residences that would cost four to six times as much in the U.S, ideally situated on the beautiful Gold Coast of Costa Rica.
Imagine the dream lifestyle you can enjoy with all these amenities literally at your doorstep. A sumptuous spa, luxurious beach club, sports courts, state-of-the-art fitness center, yoga gardens, a gourmet restaurant, sunset bar, maid and valet services, as well as countless delightful activities, including private biking and hiking trails, even gorgeous waterfalls you can swim in.
QUICKLY RISING HOME VALUES
Thanks to the many affluent American families who've chosen to live in the Nosara region, growth is forecast to continue to propel real estate values. To preserve the spectacular natural beauty, dense development is prohibited near the beaches or into the sea.
OPTION FOR HIGH RENTAL OCCUPANCY—WITH AN AVERAGE OF $600-$800 A NIGHT
You'll have the option of including your property in the rental pool when you're not in the residence. Your home will be rented to visitors and meticulously managed by the resort manager. You simply enjoy the income.
The resort will fully manage and meticulously maintain your home and, if you wish, even rent it out to high-paying vacationers at an average of $600/night and up to $1,400/night during the holiday seasons.

There is plenty of room for revenue growth because the resort's vacation rentals are fully established. The resort property manager, who is on-site 24/7, is ready to market your home for rentals and check-in guests. These high-level resort services are provided to you since the home is already under the Resort Rental Program. The resort does all the work. You simply enjoy the income.

In addition to the rental income you can enjoy, there is, of course, the added benefit that you have a luxurious home to stay in free of charge (no expensive hotels required). You can visit and stay whenever you want, and enjoy the beaches and other natural wonders of the Nosara area. It's an especially inviting opportunity for you to take a break from winter weather in North America whenever you want.
FEATURES OF THE RESIDENCE INCLUDE:
Beautiful green roof garden with panoramic views, spacious sitting areas, and yoga/meditation platform

High ceilings throughout the home open up the rooms and help keep them cool and comfortable—making the residence more energy-efficient.

Custom-height double-glazed windows and sliding glass doors with UV protection

Kitchen and bathroom cabinetry with quartz stone countertops

Groe bathroom faucets and fixtures

Front-load full-size Bosch heavy duty washer and dryer

Four-person hot tub

Double infinity-edge pool with handset Gres porcelain tile

State-of-the-art sound system with Onkyo™ surround-sound home theater in the living room and Klipsch™ recessed ceiling-mounted directional speakers throughout the common areas

High-speed internet with comprehensive mesh system that covers the entire property

Energy-efficient water heater

Energy-efficient zoned A/C system throughout the home

Two-car enclosed garage and ample outdoor parking

Fully wired alarm system

Mature landscape design featuring native species that attract butterfly and bird species

Comes fully furnished with state-of-the-art furnishings and hospitality package

And more
Security will never be an issue as this home is located in a gated community with 24/7 security.
FEATURES OF THE COMMUNITY INCLUDE:
Private gated community that is far from ordinary yet close to everything

500 acres exclusively reserved for single-family estates and reserved forest and green areas

Extensive private park and trail system throughout the property, including waterfall trail

24-hour guard-gated access

Sport courts

State-of-the-art beach club

And more
MAKE THIS UNIQUE HOME THE HOME OF YOUR DREAMS NOW! INQUIRE TODAY.