Invigorating Nature and Ocean Views in This Eco-Beach Community
ID CODE: #3462
Land: 5,000 m2 (1.25 acres)
Construction: from 96 m2 (1,030 sq.ft.) to 165 m2 (1,760 sq.ft.)
Bedrooms: 2 or 3
Bathrooms: 2
Click on the pictures to enlarge
THE LOCATION
A meaningful and private lifestyle immersed in nature, just a short walk to the ocean in the Sunshine Peninsula of Nicoya, where the really friendly and happiest people of Costa Rica live the longest! Across the bay from the famous Tortuga Island, right in the vicinity of Curu National Park offering beautiful nature and wildlife to admire from your beach house as well as countless exploring adventure possibilities and absolute privacy.
The right-hand side of this beautiful bay is just waiting for investment. The village of Paquera is just 7 minutes drive where there is a Hospital, 2 grocery stores, bank, shops, restaurants, and a school... Private school and 2 beautiful tropical Golf Courses are 20 minutes away at Tambor Bay.
THE DEVELOPMENT
An off the grid private community… Low density, total privacy, building ready platforms in each lot all with subterranean utilities already hooked up. A 58 acres development with partial, amazing and premium ocean views and eco standards. The land is divided into 25 parts of 5,000 m2 (1.25 acres) per lot ready to build any of the 8 villas. The gated community and the size of the land where the high-quality villas are constructed have a purpose of providing total privacy surrounded by nature by only paying a monthly HOA fee of US$150. There's a wifi tower located in the development, also water and electricity services that will be under the ground providing special protection of the amazing nature and taking care of an uninterrupted view. Looking to go 100% green? You can ask for solar system installation to power your home.
THE VILLAS
Located in 5,000m2 (1.25 acres) of land with partial ocean view, you will find these first four splendid and modern villas with a partial ocean view. These villas are built with the purpose of living within nature while having an astonishing partial view of the ocean. Nevertheless, we offer two other view options. For an additional US$50,000 you can have an amazing ocean view or for US$150,000 extra to the original price a premium ocean view which has 180 degree views of the bay overlooking Isla Tortuga.
Check out our brochure for more options!
** 30% Seller Financing on the Lot and Villa Construction an Only 4% annual interest for 3-10 years to qualified buyers **
** Travel Reimbursement US$1,000 on Partial Ocean View Lots | US$1,500 on Amazing Ocean View Lots | US$2,000 on Premium Ocean View Lots **
Type A
Built area - 96 m2 / 1,034 sq. feet
2 Bed-, 2 Bathrooms, 1 Pool
US$314,000 with PARTIAL OCEAN VIEW
Type B
Built area - 113 m2 / 1,217 sq. feet
2 Bed-, 2 Bathrooms, 1 Pool
US$330,000 with PARTIAL OCEAN VIEW
Type C
Built area - 139 m2 / 1,496 sq. feet
3 Bed-, 2 Bathrooms, 1 Pool
US$354,000 with PARTIAL OCEAN VIEW
Type D
Built area - 165 m2 / 1,760 sq. feet
2 or 3 Bed-, 2 Bathrooms, 1 Pool
US$364,000 with PARTIAL OCEAN VIEW
+ US$50,000 amazing ocean view
+ US$150,000 premium ocean view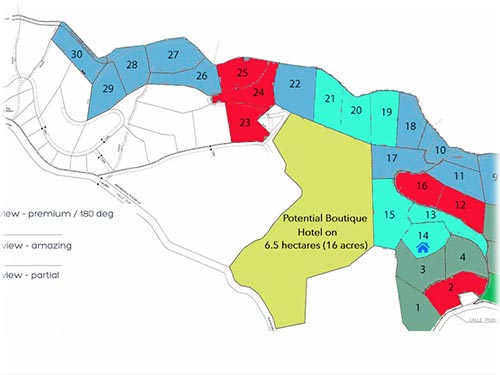 LAND AND VIEWS
The development consists of 30 lots for sale of 5,000m2 (1.25 acres) each one. Located on a mountain, the higher the lot you choose to build your house, the better view you'll have of the ocean.
PRIVATE COMMUNITY MANAGEMENT AND SERVICES
Professional property management services are offered at the main office of the development. It includes paying bills, security 24/7, gardening, pool maintenance, house cleaning, repair projects as needed… Vacation rental services are also part of this off the grid community. If you are away, you'll have the benefit of not only paying fixed costs but also generating rentals for more income in your residence. There is also a concierge service available to make your stay the best time possible. If you need transportation from the airport or from the ferry, also we can book massages, tours to Isla Tortuga or even whale watching in the bay. If you are planning a special event, leave it to the concierge!
CONTACT US TODAY AND RESERVE YOUR LOT, PRICES WILL INCREASE AFTER 20% HAS BEEN SOLD!