Uvita Jungle House and Planned River Lodge with Optimal Location
ID CODE: #2791
Sales Price: US$399,000
Land: 1 hectares (4 acres)
Bedrooms: 2
Bathrooms: 2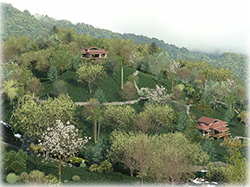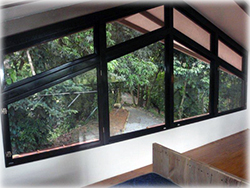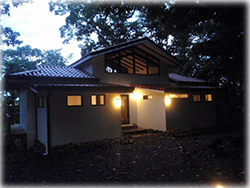 Click on The Pictures to Enlarge
The potential for this riverfront property located minutes from central Uvita is huge.  This gentle sloping and entirely useable 18.251 m2 (4.4 acres) property includes full access to the Cortezal river, an existing modern home and an additional 3 building sites.  One of the building sites sits next to the public bridge and offers commercial potential (teahouse or restaurant) with a private entrance, parking space and large river frontage offering easy access, a high level of privacy and numerous swimming holes.  
The first house was constructed in 2011 as the owners' strived to develop a complete community consisting of 3 houses and a teahouse/apartment.  The architecture for the 3 houses is identical; spacious, open and in harmony with nature.  The completed main house sits on the upper plantel. While the planned 2nd house is located down at the river and has electricity, water and a concrete foundation in place (value about $ 50,000).   No work has begun for the third home site or additional commercial location.
The existing modern house offers great views to the river and nice ocean views over the treetops as it is situated on the edge of a ridge.  Ocean views can be broadened, however the owners choose to preserve the surrounding nature and feature the rivers with peak ocean views.  While enjoying nature and fresh air from the expansive deck (72m2), you will feel as if you were located between the treetops.  The existing house is about 225 m2 including a secure storage bodega (24 m2), a mezzanine/loft (18 m2) and deck constructed from treated Ecomaderas wood.
 The house is fully equipped and completely furnished.  In maintaining the theme of being in harmony with nature, much of the wood used to construct the home was reclaimed from the property.  The feel of nature is abundant throughout the home; including handmade kitchen cabinets and wood staircase to the upper loft using Laurel wood, exterior doors from Cedar and interior doors of Eucalyptus and Melina.  Due to the preservation of trees and smart development, wildlife is abundant in the area.  To enhance your living and the attraction of wildlife, the property has been planted with numerous fruit trees including; banana, mango, papaya, avocado and many others.
All living spaces have full frontage windows with double sliding doors (glass and cedazo).   The kitchen is nicely equipped and the open floor plan of the home offers views from the kitchen.  The additional loft is well suited for study or extra bedroom and has a wooden floors.  Underneath the house there is a large bodega, including a large dry room (6 m2) with dehumidifier and washing machine and dryer.
Whether you seek a simple but elegant private home situated amidst Costa Rica's finest natural surroundings or wish to continue development on this easily accessible, private property to create a guest house or other income generating options, the Uvita Jungle house and River lodge property is perfect.