Sold!!! Looking for similar properties?
Contact Us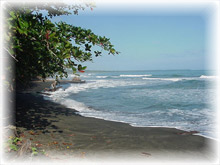 GORGEOUS property consists of 2 adjoining parcels, one with an incredible beach frontage of 266 meters and the other one just behind it with an exotic Caribbean style house. Can be sold separately! Together: what a deal!.
An amazing property in an incredible paradise: Long walks on pristine beaches, exotic flora and fauna, snorkeling or diving among the many reefs in crystal clear waters, visit different wildlife refuges and national parks. Imagine the feeling of waking up to the sounds of howler monkeys, exotic songs of rainforest birds, and the sound of the rolling waves of the sea, just a few yards from your terrace.
A short walk takes you to several good restaurants, boutiques, groceries and discos. The trendy tourist town of Puerto Viejo with its gourmet restaurants is a few minutes walk!
Magnificent beachfront property of 4,5 hectares (11,3 acres). It has 266 meters of beach frontage!!! Price US$1,575,000.
Right next to the beachfront property there is a 2,2 hectares (almost 6 acres) just 200 meters from the water, with a beautiful Caribbean Style house for US$350,000.
CAN BE SOLD SEPARATELY!....
LOCAL GOVERNMENT IS VERY OPEN TO NEW DEVELOPMENT!!!
Contact: Arturo Guzman @ info@propertiesincostarica.com