Top 10 Reason for Choosing Turrialba
May 15, 2012
Properties in Costa Rica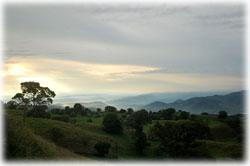 1) The weather. NASA says CR has the best weather of any country in the world, however there are great variances in weather over the country. We examined various places in CR to find what we thought was the most perfect weather in the country. We ruled out the coasts as they are too hot, requiring air-conditioning most of the year. We ruled out the very high elevations due to cold/rainy conditions. The city of Turrialba is in a valley and is too hot much of the year but the lower mountains above Turrialba are perfect. The all time record high for here is 85F. However, were we live when it gets around 80F we get a strong cooling breeze. We never need heat or air conditioning. In the 7 years we have lived here the only times we have had bad weather has been a week or so in Oct/Nov when will be cloudy with light rain. Also, as you know CR is immune from Hurricanes.
2) Tranquil life of a farming community. We wanted all of the benefits of living in a large city but none of the liabilities. We have high speed internet, good grocery markets, open air fruit and vegetable markets, but no traffic congestion or air pollution from too many vehicles.
3) Location. We are also perfectly positioned in the middle of the country and can be to the Caribbean Coast in 3-4 hours and the Pacific in 5 hours. We are a 1.5 hours from San Jose by car or bus. We have excellent Directo Bus from Turrialba to San Jose that costs less than $6 round trip.
4) Health Care. We have the William Allen Hospital in Turrialba about 15 minutes from the property. CATIE has donated land for the construction of a new public hospital with projected completion date of 2 years. This hospital will be located about 10 minutes from the property. We also have an excellent private clinic in Turrialba and can highly recommend a physician there who was trained in London. Our pharmacist in Turrialba also speaks perfect English and is always available for minor emergencies 7 days a week.
5) Water. We have abundant municipal water which is unmetered. Just to be safe, we installed state of the art water purification and filtration systems consisting of reverses osmosis, UV light and ceramic filters.
6) CATIE. CATIE is the premiere tropical agricultural research institution in Latin America. Scholars from the world over come here to complete their doctor's degrees and are involved in tropical agricultural research. The CATIE contributes much to the community and hosts and annual International Fair, and has one of the finest English language schools in Costa Rica. They also have a kindergarten through high school program in Spanish/English that is a world class educational facility.
7) Fine dining & hotels. We have some excellent resturantes & hotels in the area. Hotel Casa Turrie is about 10 minutes from the property and has a Swiss Chef. This 5 star hotel and restaurant is as good as it gets anywhere in the world. We also have Hotel TurrialTico with a fine restaurant and Angustura is only a few minutes from the property.
8) Neighbors. Our neighbors are our friends. We could not ask for better neighbors. They are constantly looking out for us and grateful that we moved to their community.
9) La Suiza. The small town of La Suiza is only a few minutes from the property and has an excellent bakery, 2 grocery stores and most of your basic needs.
10) Pura Vida Lifestyle!