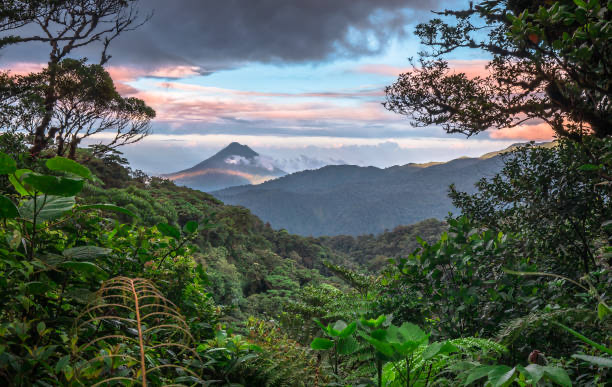 May 17, 2023
Properties in Costa Rica
Costa Rica is on the front pages yet again!
In recent years, Costa Rica has emerged as a leading destination for travelers seeking a unique blend of adventure, natural beauty, and sustainability. It comes as no surprise then that the Central American gem has been honored with the prestigious title of "Best Latin American Destination" by National Geographic. With its stunning landscapes, abundant biodiversity, and commitment to sustainable tourism practices, Costa Rica has captured the hearts and imaginations of both tourists and conservationists alike.
A Sustainable Paradise
Costa Rica has long been at the forefront of sustainable tourism initiatives and the country's commitment to environmental conservation is evident in its extensive network of national parks, protected areas, and wildlife reserves. With over 25% of its landmass designated as protected territory, Costa Rica has set a shining example for the rest of the world to follow and National Geographic has recognized its efforts to preserve its rich biodiversity and promote sustainable practices.
From its lush rainforests teeming with exotic wildlife to its pristine beaches and crystal-clear waters, the country offers a remarkable array of natural wonders for visitors to explore. Through responsible tourism, Costa Rica is ensuring that future generations will be able to experience these incredible landscapes.
Costa Rica is also a playground for adventure enthusiasts. Offering a range of thrilling activities, including zip-lining through the treetops of the cloud forests, white-water rafting down raging rivers, surfing world-class breaks, and hiking up volcanoes. Its varied topography, with both Pacific and Caribbean coastlines, as well as mountains and rainforests, provides endless opportunities for outdoor exploration and adrenaline-pumping experiences.
For wildlife lovers, Costa Rica is a paradise. The country is home to an astonishing array of animal and plant species, including howler monkeys, toucans, sloths, jaguars, vibrant tropical birds, just to name a few. Whether it's spotting elusive quetzals in the Monteverde Cloud Forest Reserve or observing sea turtles nesting on the Caribbean coast, nature lovers will find themselves immersed in a captivating world of biodiversity.
Embracing Pura Vida
One of the defining characteristics of Costa Rica is the concept of "Pura Vida," which translates to "pure life." This phrase encapsulates the country's laid-back lifestyle, warm hospitality, and commitment to environmental sustainability. Visitors to Costa Rica are greeted with genuine warmth and friendliness, creating a welcoming and inclusive atmosphere that has clearly attracted millions of tourists over the years. 
Costa Rica's dedication to sustainable practices also extends to its hospitality industry. Many hotels and resorts have adopted eco-friendly initiatives, such as using renewable energy sources, implementing water conservation measures, and supporting local communities. Travelers can enjoy their stay knowing that their visit contributes to the preservation of the country's natural heritage.
If you're considering a trip to Costa Rica, it's essential to plan ahead to make the most of your experience. Research the various regions and activities that interest you, keeping in mind the time of year and weather conditions. Whether you're seeking an action-packed adventure or a relaxing escape, Costa Rica offers something for everyone.
Remember to respect and abide by the country's environmental regulations, such as staying on designated trails, refraining from littering, and not disturbing wildlife. By practicing responsible tourism, you can play a part in preserving Costa Rica's pristine ecosystems.
Costa Rica's recognition as the Best Latin American Destination by National Geographic is a testament to its commitment to sustainable tourism and its breathtaking natural beauty. The country's impressive biodiversity, thrilling adventure opportunities, and warm hospitality make it a must-visit destination for travelers from around the world. As Costa Rica continues to prioritize conservation and responsible tourism, it remains a clear example of how countries can protect their natural heritage while offering unforgettable experiences to visitors.