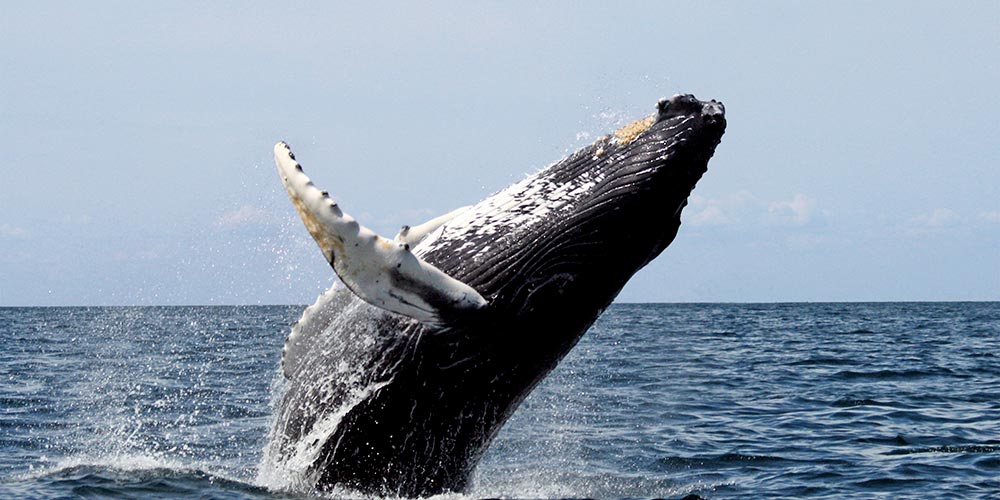 May 26, 2018
Properties in Costa Rica
From July to October, you will be able to watch the spectacle offered by humpback whales and dolphins on the Pacific coast of our country. This massive event has developed an important growth in tourism in the area, especially with the sighting of those majestic mammals that attracts tourists from all over the world.
The tropical climate of our country makes the temperature of the ocean perfect for humpback whales, they travel thousands of kilometers from Alaska or different parts of the continent to the shores of our country to give birth to their young. Another reason why they massively come to Costa Rica is the amount of food provided in the southern Pacific Coast, this is due to the number of conserved areas and national parks in this area.
Whale watching is a unique experience, these huge animals are so imposing and delight the watchers with such a peaceful scenery. You'll be able to observe their full body while jumping out of the water, their majestic and elegant tail, their big eyes, and the "small" calf right next to them. Once you spot a whale in the ocean expect to see more, they always travel in groups. Interactions with whales have been banned by the Costa Rican government, so every year we get to see more whales in Costa Rican waters. Nevertheless, if you are scuba diving and come across one, admire their beauty and feel privileged to watch them freely, in their natural habitat.
The most famous place to do this activity is in the South Pacific part of Costa Rica, from Uvita to Osa. Whales commonly swim by Drake Bay, named for the Pirate Sir Francis Drake in the 16th century who used the bay to hide treasures from the English pirates. Near the bay is "Isla del Caño" a small island that was declared a national park, and has a quite varied marine fauna making it an ideal place to practice snorkeling or scuba diving. Also, if you are located in a home or hotel with ocean view in Uvita or Dominical you might be lucky to watch some of these from the balcony, or even sometimes whales get close to the coasts and you can appreciate them from the sand on the horizon.
The most common way to attend to this activity is to buy a boat tour that takes you to the open sea to be able to see the whales and dolphins for a full day or half a day, so booking at a hotel in the area is preferable by the attendees. The area is quite visited by fishing fanatics, divers or common for various maritime activities or even explorers who hike through the Corcovado National Park. Tours for this majestic activity are all over the Pacific coast, you can book it at any hotel or tour store.
There are few more beautiful experiences than whale watching, especially a humpback whale swimming with its calf both lifting tails, their pectoral fins or even when they jump together a natural wild show. If you visit Costa Rica or you live here, its a must in the checklist, one-lifetime experience!