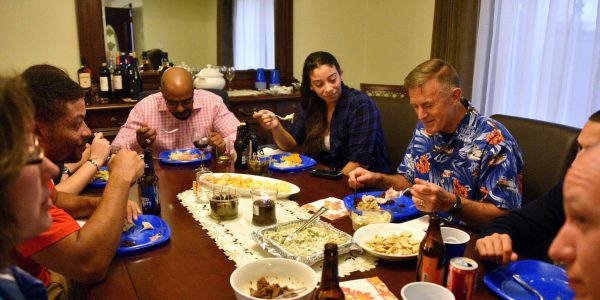 November 21, 2018
Properties in Costa Rica
Costa Rica is a country that has plenty of influence from the United States since plenty of expats and American families live in the country. Ticos even adopt some of the typical holidays, for example, Thanksgiving.
This is one of the most celebrated holidays for families and friends in Costa Rica. We must take into consideration that there are more than 100,000 Americans living in Costa Rica, many Ticos have also lived or studied in the United States, also some have family influence from North America. Despite this, there are even families without American influence that tend to celebrate this holiday since it is a great excuse to get together and cherish loved ones.
Each year the amount of people that celebrate Thanksgiving in Costa Rica increases. Supermarkets are running out of turkey more and more during November. It is well known that Thanksgiving has a cultural, historical and patriotic connotation for the USA. Nevertheless, Costa Ricans find the essence of this Holliday something of value and worth of celebrating.
Why not celebrate a day where the main purpose is to give thanks?
At the beginning of November, you already start to feel a festive climate in the streets. Trees start lighting up and even the days are chilly but sunny, the best months to spend time outdoors. It is natures way to welcome the most beautiful celebrations that Ticos will experience during the months of November and December.
Thanksgiving celebrations happen all over the country. Restaurants tend to have special menus and supermarket have sales on all of the ingredients needed to complete the perfect dinner. If you are foreign looking to eat turkey and mashed potatoes, you will find it here, keep in mind that flavors can be a little different from traditional ones, more tropical.
Thanksgiving is even celebrated in beach towns like Jaco or Tamarindo where there's a large concentration of American residents. Most of the expats tend to get together with other expats that become part of their family while living outside the USA.
Celebrations in Costa Rica include the typical dinner. It can be at restaurants or at family homes, but always with great company and tons of food. Some people rather spend this day at the beach or in "miradores" which are outlook places in the mountains that overlook the city or the ocean.
Some families even adopt the tradition of mentioning all the things they are thankful for. Others write phrases of what they are thankful for and hang them in the Christmas tree. There are more creative families that even light up balloons with letters attached and set them free, sending their gratefulness everywhere.
Thanksgiving is a great occasion to open a good wine, invite family and friends and set up a pretty table to enjoy a grateful dinner with good company. Ticos are proud of being ticos and having their own traditions, but a day to be thankful amongst loved ones is certainly a good celebration.