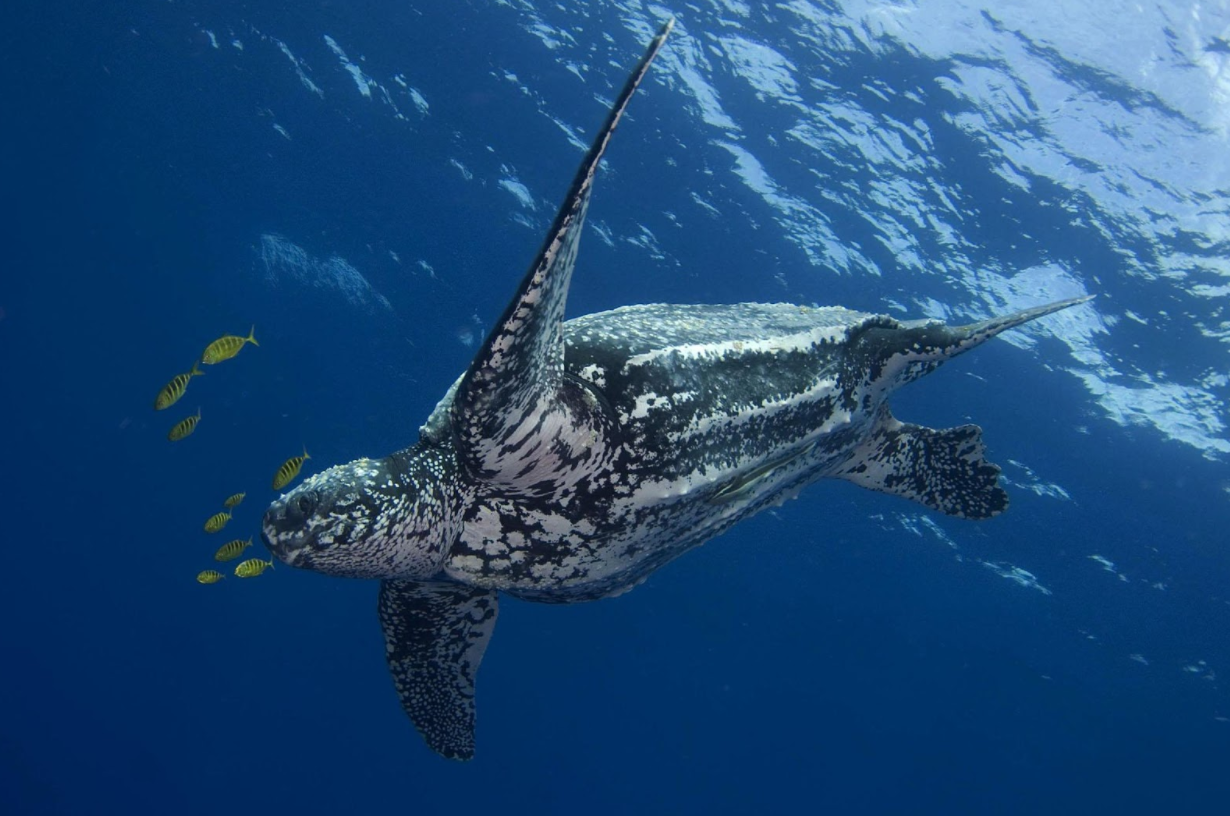 In Guanacaste we say goodbye and greet the year welcoming one of the most amazing giants that inhabits in the Pacific Ocean!
Finally, after Christmas and New Year's celebrations ended and officially summer started in Guanacaste we find ourselves in the best season for sighting leatherback turtles in the area. For thousands of years between November and February Leatherback Sea Turtles that hatched in Costa Rica's Northern coast have returned to lay their eggs.
Leatherbacks are deserving of their name thanks to their unique shell formed by a layer of thin, tough, rubbery skin, that is strengthened with tiny bone plates that makes it look "leathery." These turtles are the world's largest sea turtles, in average, getting to six feet long and up to 1,500 pounds on weight. They have a unique blood system. This enables their body temperature to stay several degrees above the water temperature and allows them to tolerate very cold water. They are known to be active in water below 40 degrees Fahrenheit, which makes them the only reptile known to remain active at such a low temperature.
These travelers are one of the most migratory of all marine turtle species, making both trans-Atlantic and trans-Pacific crossings. About 50% of the females of leatherback turtles of the Eastern Pacific, spawn in the National Marine Park Las Baulas (Leather Back), just 20km from Tamarindo.
The creation of this park allows the protection of these turtles that come to nest in the main beaches of the park: Ventanas, Langosta and Playa Grande. An estimated 800 leatherback turtles nest in National Marine Park Las Baulas every year, but worldwide their population is dwindling. The most important nesting beaches in the Pacific are located in Costa Rica, Mexico and Indonesia. Lots of tourists visit the area during these season to witness this spectacular scene, however after 6 pm they are only allowed to enter the beach with a guide and the total number of visitors is restricted to 30 persons per turtle in order to be environmentally responsible protecting the turtles and do not interfere with their nesting.
The highest chances of seeing this amazing animals at National Marine Park Las Baulas are from December to January. This first 2 weeks of the year are the last best chances of experiencing this first class environmental phenomenon. Several witnesses have declared sea turtle nesting in Costa Rica as the most incredible experience of their life, described as emotional, moving and even transcendental. Therefore, if you are resident in the area, here just for holiday or visiting some real estate opportunities, give yourself some nature time and explore Guanacaste area. Apart from turtle watching, visitors can also surf, swim and enjoy the beautiful beaches of Playa Grande, Playa Tamarindo, Playa Avellanas, Playa Langosta. Enjoy snorkeling around Playa Conchal, Paddle boarding at Playa Danta, or just enjoy the summer sunsets from incredible views around Flamingo Area.