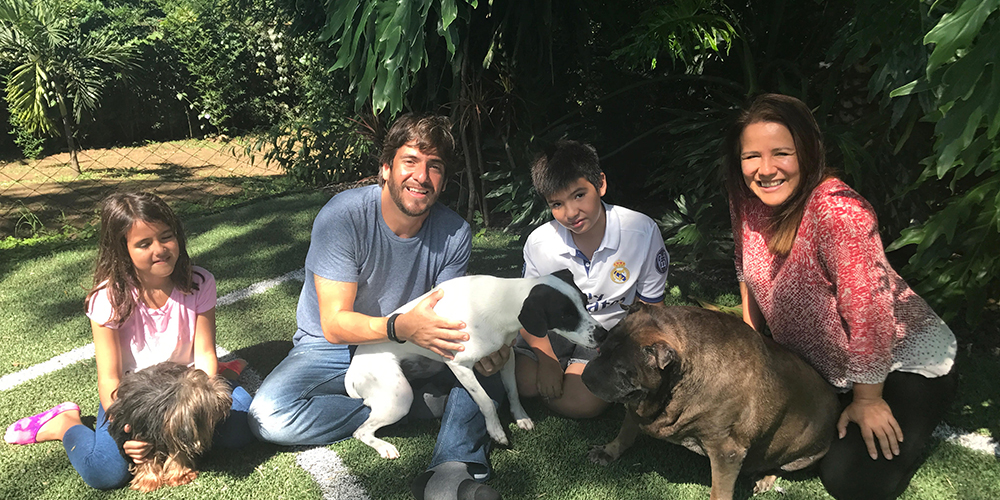 5 reasons why Costa Rica is attractive to expat families
February 15, 2019
Properties in Costa Rica
Uprooting the family and moving to a new country can be an arduous task if you don't put some serious planning in first. There's the kids' schooling to think about, the cost of living, possible language barriers and whether or not you'll settle into the new culture.
Making sure you've considered each of these points before packing your bags can help you decide whether you've made the right choice. So, to help any prospective expats make up their minds, this article looks at Costa Rican lifestyle and education to healthcare and more – all with the help of a seasoned expat who is very familiar with life in Costa Rica.
Laidback lifestyle

While doing your research, it would be near impossible not to come across the phrase 'Pura Vida'. Like a national motto, it appears everywhere, from bars and restaurants to much of the country's street art. Roughly translated, the phrase means 'pure' or 'simple life', and it's an intrinsic part of Costa Rican culture.

Put simply, Pura Vida is a way of life that involves recognising the good, being thankful for what you have, and not dwelling on the negatives. And it's this attitude that so many people fall in love with when visiting the country.

James Kaiser, an expat who lived in Costa Rica for five years and still visits regularly, had this to say: "Many people cite the cost of living as a reason to move to Costa Rica, but ultimately it all comes down to culture. The beauty of living in Costa Rica is not real estate or food that cost half as much as in the U.S. It's experiencing a new culture."

Natural beauty

If you feel like you've spent too long in the grey sterility of city life and want to get back to basics and reconnect with nature, there's nowhere quite like Costa Rica to get back in touch with la madre Tierra.

Boasting some of the world's most beautiful scenery, as well as 6% of the planet's biodiversity, Costa Rica is a rich landscape of nature reserves, beaches and tropical ecosystems for you to explore. In fact, in 2015, the Corcovado National Park was named the world's best national park.

High-quality healthcare

Since the abolition of Costa Rica's army in 1949, the country has invested substantial sums in education, healthcare and pensions, spending more of its GDP (Gross Domestic Product) on education and health in 2012 than the UK.

This has significantly improved the lives of Costa Ricans and is why the country now enjoys the highest life expectancy in the whole of South America. These contributions to national infrastructure have also led to a boom in one of the country's growing industries: medical tourism.

More than 40,000 Americans a year travel to Costa Rica to take advantage of its low-cost, high-quality private healthcare, and this new industry raises millions in tax revenue for the country's public healthcare system, which is now ranked number one in Latin America.

Permanent residency entitles expats to full access of these services and means relocating to Costa Rica shouldn't pose a problem for retirees or those with pre-existing conditions. However, if you're planning on taking advantage of the country's many world-class dentists, optometrists or cosmetic surgeons, you may need a suitable health insurance policy to cover the costs.

Plentiful education options

It's always important to consider schooling when moving with your children to a new country, and you should always be able to justify the disruption to their education.

Moving to Costa Rica can afford your children plenty of opportunities and is often easier when they're younger, because it gives them more time to acclimatise to their new surroundings and learn the lingo. Expatriating before your children are in high school also means they have longer to explore the untamed wilderness of Costa Rica and get used to the way of life.

The public schooling system in Costa Rica is free and ranked twentieth in the world according to the latest Global Competitiveness Report, so you needn't worry about spending money on a private education. Nonetheless, many expat families do enrol their children in private schools as they offer smaller class sizes, put a greater emphasis on using English and are a great way to meet other families who've emigrated from abroad.

Deliciously affordable cuisine

One of the biggest expenditures for a family is the weekly shop, so before moving to a new country, most families want to know how much of their budget will be eaten up by a trip to the supermarket.

For US and European expats this can be a tricky one, because if you don't want to give up your home comforts, like chocolate or branded products, you're going to have to pay a large premium for buying the same things in Costa Rica. Instead, the best thing to do is either look for Costa Rican substitutes or abandon imported goods altogether and embrace the local cuisine.

Most Costa Rican food comprises a mixture of rice and vegetables, and an excellent example of this is the national dish gallo pinto. This is traditionally eaten at breakfast time and consists of rice and black beans.

Costa Rican food is generally very healthy and with an abundance of inexpensive, locally-sourced fruit and veg, it's easy to feed a family of four a week's worth of wholesome meals on a modest budget.

With plentiful healthy food options, countless national parks and an internationally renowned healthcare and public school system, there's no reason why Costa Rica shouldn't make your list of prospective destinations to settle down with your family.