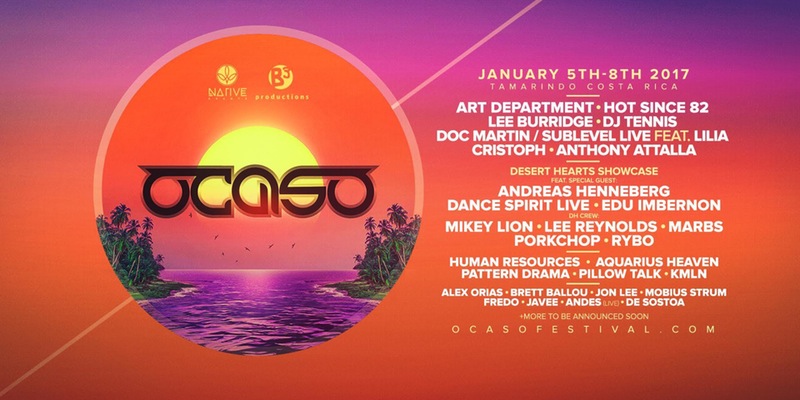 This week kicks off the Tamarindo Beach Ocaso Festival in Costa Rica to welcome in the new year with lots of dancing, music, and fine food. Admissions are free and space is limited so festival organizers suggest people sign up ahead of time to guarantee admissions. The festival starts January 5th and runs through Sunday, January 8th traveling to several locations in the Tamarindo area. It promises to be a fun bash and chance to celebrate with old friends while meeting a few new ones too.
Starting at 4 pm on Thursday at the Langosta Beach Club, festival goers can dance taking in the sweeping ocean views and enjoying good food from Sunset till the early morning hours. This club is a popular meeting place for Tamarindo's international community and one of the hottest places to meet to party in town. On Friday, January 6th, the festival moves to Tamarindo Vista Villas Hotel. At this laid-back, boutique hotel overlooking Tamarindo Bay, starting at noon partygoers can dance poolside. On January 7th, the festival venue will take place at the natural wonder La Senda. Travel to this labyrinth to dance and get lost in the magic of the maze. Finally, the festival wraps up its last day on January 8th back at the Langosta Beach Club for a big finale dance party.
Tamarindo has grown into a cultural epicenter in recent years and the hub of cosmopolitan Costa Rica. It welcomes visitors from all over the world each year. January marks the peak season as visitors flock here to escape colder climate for some fun in the sun. Welcome in the New Year dancing poolside or oceanside. Take a break and come out to get down to great music, enjoy fantastic food and have a blast into the late night hours. It's a four-day not to be missed celebration to welcome in 2018. It's a brand new year fresh with possibilities and goals to achieve.
Musicians include Edu Imberon, Dance Spirit Live, Andreas Henneberg, Mikey Lion, Lee Reynolds, DJ Tennis, Doc Martín, Anthony Attalla, Aquarius Heaven, Pillow Talk, Pattern Drama, KMLN Mobius Strum, Brett Ballou, Alex Orias, De Sostoa, Fredo, Faceblind, Javee, Eleazar Delve, Hassan Marofi, David Charpentier, and Andes and Carlos Montenegro.