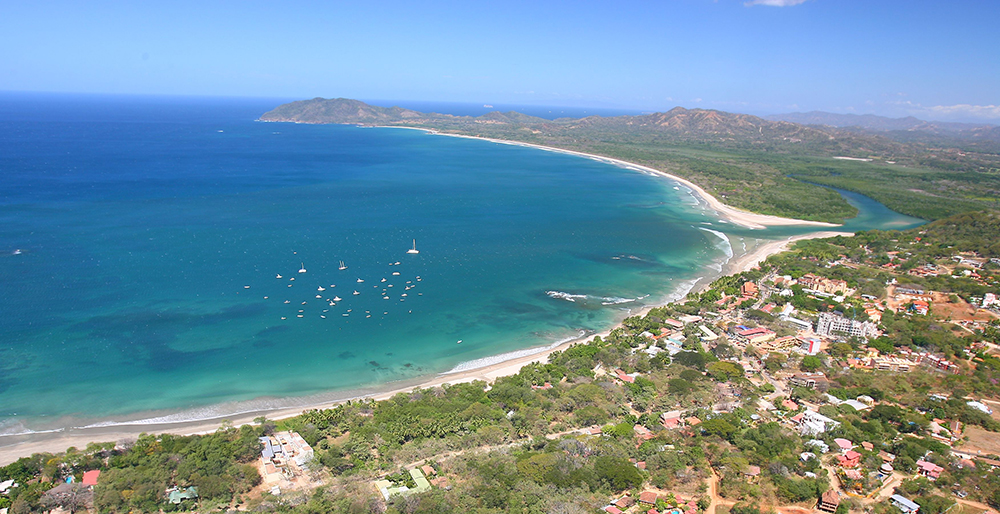 Top 5 beach spots in Guanacaste
February 19, 2019
Properties in Costa Rica
The Northern Pacific coast has a great variety of wonders to discover. It is well known for its strong culture and extense beautiful beaches limiting north with Nicaragua. Guanacaste is one of the most prominent provinces of the country known as the Gold Coast.
Below you will find our must-visit top 5 beach spots in this region:
Avellanas
Playa Avellanas is known as surfing beach town, having some of the most famous breaks along the beach. There are about 5 surf breaks with almost perfect conditions. If you are a starter you will be able to surf here but there is also a spot called Little Hawaii for experienced surfers. Avellanas has clear waters with some rocky areas so when there is low tide small pools are formed in the shore. Beautiful vegetation allows to have plenty of shadow below the trees but you could also rent a beach umbrella and chair to relax. It is well known for a beachfront restaurant with incredible ocean views named after the diva that walks every day through the beach, Lola: a pig. Lola is one of the main attractions in Avellanas, we at Properties In Costa Rica are very fun of her!
Right between Langosta Beach and Avellanas Beach you will find an elegant development of 4500 hectares called Hacienda Pinilla including a J.W. Marriott and a professional golf course for those looking for some activity.
Tamarindo is the most famous beach town in the region combining natural beauty and ample amenities. It has become one of the busiest towns in Guanacaste, rapidly growing and attracting tourists from all over the world. You will find the main strip of Tamarindo full of hotels, backpackers hotels, camping spaces, condos, shops and some of the best restaurants in the area. If you are looking for a luxury vacation there is a beachfront five-star hotel and plenty of luxury villas scattered around town. There is no need to rent a car since everything is walking distance. It is a great place for amateur surfers and for those who would like to try their first surfing class!
Playa Grande
Playa Grande, which means "big beach" in English, is famous for the most consistent surf break in the region. Despite being 100 meters away from Tamarindo, it is a much more calmed beach with fewer crowds. Eco-tourism and surfers are the targets of this area since the beach is part of Las Baulas National Park, one of the most prominent site for turtle nesting. The goal is to protect these turtles and keep them coming to lay their eggs. Nesting can be watched but not alone, always with a guide that will make sure that the conditions are fine for turtles to nest while people watch. There is a big estuary in Playa Grande which has labyrinths of mangroves that can be explored in a kayak or stand up paddleboard and you'll be able to find tons of animals, sometimes even crocodiles!
Playa Conchal is one of the most acclaimed beaches in the Pacific region, located in Northern Guanacaste and 30 minutes away from famous Tamarindo. The name of "Conchal" means shell because of the unique texture of the sand, made from thousands of millions of little-crushed pieces of shells. This golden paradise offers crystal clear water that maintains an excellent temperature all year round. Right at the corner of the beach, you will find rocks which create pools for snorkeling. Rent a kayak and explore the small islands around, or if you like adrenaline rent a jet-ski for more speed. If you would like to enjoy a luxurious vacation you will find Reserva Conchal, a beachfront resort community with outstanding private amenities for owners and renters. There is also an all-inclusive West In Hotel and a brand new W Hotel.
Las Catalinas – Playa Danta & Dantita
Playa Danta and Dantita are two hidden white sand beaches full of vegetation and marine life. Located on a bay with calmed waters it has perfect conditions for snorkeling. Scuba diving in this area is a great attraction, you can book a tour to Punta Cacique and explore the oceans beauties finding animals like octopuses, white tip sharks, starfishes, manta rays and plenty more. There is a beachfront restaurant to enjoy a quick lunch or a romantic dinner by the sea. At Las Catalinas you will find a tour office right beside the beachfront restaurant which includes equipment for kayaking, snorkeling, beach games and more. The famous mountain bike trails and hiking trails here are something you must not miss!