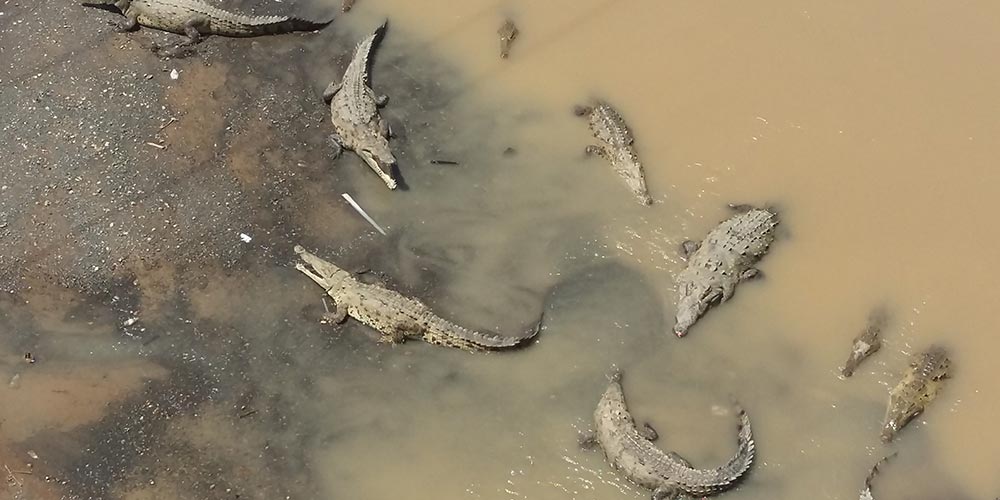 Crocodile Bridge; a stop on your way to paradise…
October 23, 2019
Properties in Costa Rica
The Costa Rica crocodile bridge is 73 kilometers (45 miles) from San Jose, about a 1 hour/20 min drive. You have to pass this bridge if you are going to Jaco, Manuel Antonio, the South Pacific or the Osa Peninsula if you plan to drive on the Costanera Sur (Route 34). The crocodile bridge is in the small town of Tarcoles, about a 20-minute drive north of Jaco.
The entire river watershed covers over 2000 kilometers (1242 miles) and empties into the Pacific Ocean. Additionally, Tarcoles River begins at the point where two different rivers meet creating the border of the Carara National Park. Unfortunately, the Tarcoles River is contaminated and polluted. Despite the contamination, an abundance of wildlife depends on the river for survival due to its key location. Furthermore, the river also helps irrigate agricultural lands and generates electricity. The government and local community have implemented programs to clean up the river but it has already had many years of contamination and it will take a long process to clean. It is considered an unsafe place to swim obviously. It is best to check it out from a distance, especially because of the large amounts of crocodiles in this river.
You'll know you have reached the bridge when you see lots of cars, a hotel, a small market, several souvenir shops and lots of people walking around. You can walk onto the bridge and make sure to use the handrail. One should be very careful when you walk on this bridge because there is no dedicated pedestrian lane and cars drive fast. The best side to see the crocodiles is on the left (coming north from San Jose). When you look down slowly, you will be blown away by the number of huge crocodiles laying right under the bridge.
The amount of American crocodiles in this river is simply amazing. So much so that this river is considered to have the highest population of crocodiles in the world. And these guys are massive. Thanks to the large numbers of these reptiles, the crocodile bridge is a fascinating stop and people love to see these animals.