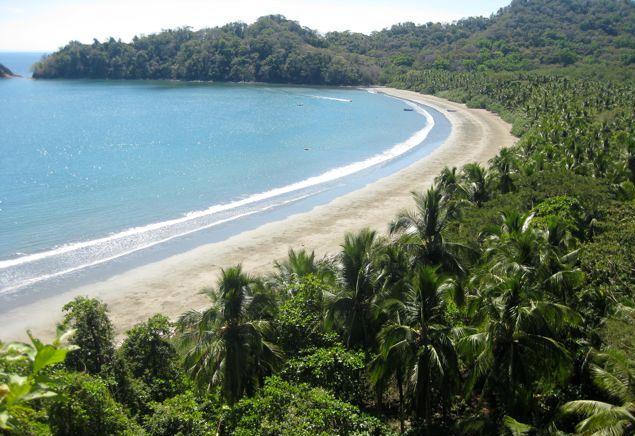 The southern part of the Nicoya Peninsula is home to many lesser known marvels of nature that are both exciting and pristine. The northern beach of Playa Blanca, a short distance from the ferry that arrives in Playa Naranjo from Puntarenas, has sugar-white sand and clear waters.
A little further south in the town of Rio Grande, 7 miles north of Paquera, the Campinas Waterfalls, three separate waterfalls cascade down a smooth rock face into a cool pool below. It is a short walk from the parking areas and is a well-kept secret for the locals to enjoy. Also in Rio Grande is Playa Pajaros, a sandy beach along the tranquil waters of the Gulf of Nicoya. There is no development, no buildings, no cables and very few people on this lovely beach.
In the town of Paquera, where the other ferry from Puntarenas docks, the locals enjoy the long, uncrowed beach of Playa Organos. It is situated directly in front of Isla Tortuga and the islands block the large Pacific swells making it a safe and fun place to swim and play in the waves. The offshore island of Tortuga is visited by over a dozen tour boats a day as well as by local tour operators. It has white sand, clear waters for snorkeling and the tour companies provide tropical picnics with delicious drinks. The guests can snorkel, swim, kayak, jet ski or just relax in a hammock in tropical paradise.
The Biological Reserve at Curu is open to tourists to see the domesticated rescued animals as well as observe the wild animals around them. Several walking paths weave through the tropical forest and a 4 mile long private beach is there for the visitors.
Heading south past Tambor, one arrives at the Tango Mar resort with a quiet, uncrowded beach and a picturesque waterfall that drops into a large pool and then the sea.
The town of Montezuma is well known for its local crafts, waterfront bars, Tarzan and Jane waterfall and its Bohemian attitude. It is a laid back place surrounded by natural beauty. The trip up the creek to the waterfall is rewarded by a spectacular sight and a large swimming pool beneath the cascade.