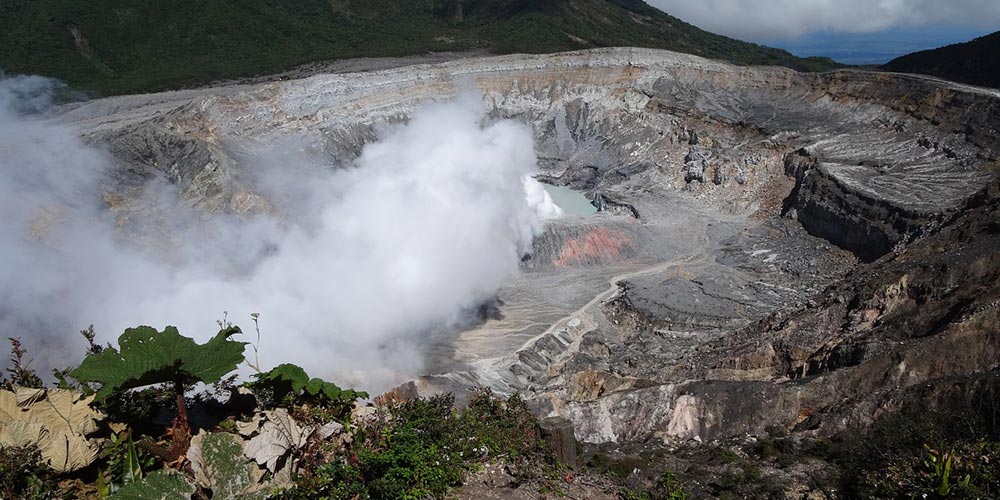 Volcanoes; one of Costa Rica's main touristic attractions
October 1, 2019
Properties in Costa Rica
Costa Rica is known for having many different attractions, but its greatest unknown appeal maybe its variation of Volcanoes. Costa Rica sits on the lower half of Central America, in between Nicaragua and Panama. Central American land is fairly new compared to the landmasses to the north and south. Millions of years ago, a multitude of eruptions formed Costa Rica which lies in the ring of fire. There are over 200 identified volcanic formations in Costa Rica, with less than half currently showing volcanic activity. The Volcanoes here have played an important role here in the disenrollment of the country's landscape. Due to the many eruptions of the past 1000 years; Costa Rica is rich in minerals and has fertile land which led to dense forestation. Diverse ecosystems and a large number of numerous amount of animal species is also a result of the volcanic process. Costa Rica currently has 5 active volcanoes and 1 inactive volcano that attracts visitors from all over the world: Poas, Irazu, Turrialba, Rincon de La Vieja, Tenorio, and Arenal.
Poas Volcano National Park is the most accessible Volcano, located in the Central Highlands of Costa Rica. It peaks at 8,885 ft (2,708m),  it is one of Costa Rica's largest and most popular Volcanoes. Only 1 1/2 hour from San Jose, it is a quick trip with incredible vegetation along the way. You are also able to identify both the Pacific and Atlantic oceans when summiting. The last eruption was in 2017, but you have to go back to 1910 to find its last major eruption.
Irazu Volcano is the tallest in the nation, reaching 11,260 ft upwards of 3,400 m., located in Cartago. Here the main attraction is the Diego de la Haya crater, which features an amazing 300-meter green lake. There is also a park (Prussia) with walking trails among beautiful forests.
Turrialba is also located in Cartago and is currently the most active volcano in Costa Rica. It is known for its constant release of white smoke and ash. It is also known for its high density of natural beauty filled with impressive wildlife. The summit peaks at 10,919 ft (3,328m).
The Rincon de La Vieja is located in the Guanacaste region of Costa Rica. This Volcano has 9 craters that form part of the Rincon de La Vieja National Park. Of the 9 craters in this national park, Santa Maria crater is the highest, peaking at 6,385 ft (1916 m). The most activity lies in the Mountains of Guanacaste, where the Von Seebach crater is currently the most active of the 9 craters. Hiking up this steep summit is not easy, but definitely worth it.
Tenorio Volcano is also located in the Guanacaste region and is part of the Miravalles Protected Zone. The max peak reaches 6,286 ft (1,916 m), which smoothly transitions from dense forest to a cinder cone. Surroundings of this Volcano are made up of a blend of forest, hot springs, and geysers.
Arenal Volcano is inarguably one of Costa Rica's most popular Volcanoes. In 2010 Arenal went into a resting phase and declared inactive. In the past 50 years or so, Arenal had been one of Costa Rica's most active Volcanoes. Today, Arenal still is one of the most visited volcanoes. It is located in the Alajuela province about 90 km northwest of San Jose, and it peaks at 5,358 ft (1,633 m).