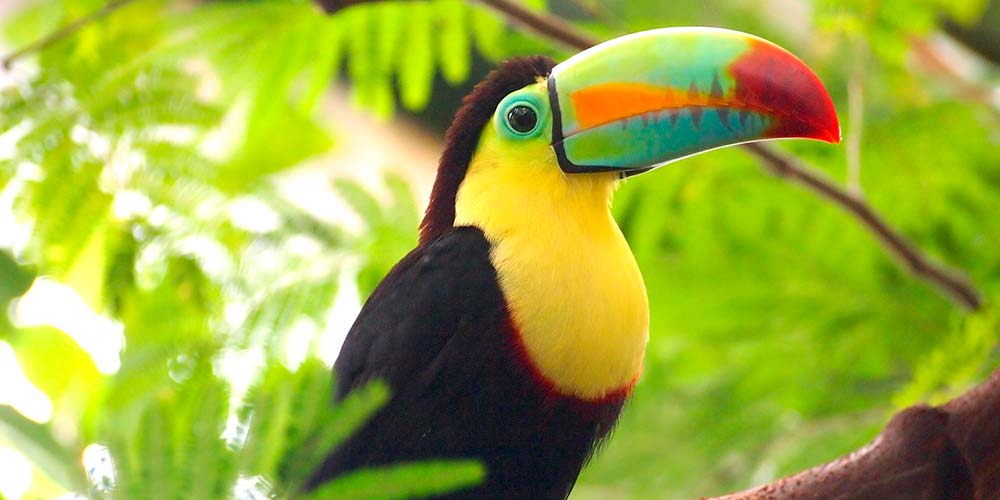 Costa Rica is known to be the home of 5% of all living beings in the world. For a tiny country that covers only 51000 square kilometers (a similar area to West Virginia) entitles the country as megadiverse. Not only its position in the tropics, two coasts in different oceans and a challenging geography, allows this condition. Also, the conservation efforts along Costa Rica's history have yielded the chance to the people to have contact with wildlife every day almost everywhere!.
A special bounty for the bird enthusiasts is found in any fruiting tree. 900 species from the resplendent quetzal, to colorful macaws or the traveling warblers that fly away from the winter; like many tourists that come and enjoy the sunshine can also hear their songs in this tropical latitudes, instead of the white, quiet and cold landscapes near their homes. For those looking for a unique sight, the country is a sanctuary to many endemic species. The volcanoes that crown the north part of the central valley are great places to look for them.
Some of the rainforest emblems, frogs, and crocs, are common on your way to the central Pacific beaches. A popular stop, the Tarcoles river bridge, allow you to see dozens of fierce crocodiles sunbathing. The nearby Carara National Park is home to the popular blue jeans frog, a visit to this place on your way to Jacó is worthed. The red eye tree frog, almost a national symbol, might be harder to find, but after a rain shower in the afternoon or at night, they can be spotted near any creek in the southern Pacific.
The beaches in Guanacaste are great to start a fishing adventure but also a few of them have a special visit during the new moon nights: olive ridley and green turtles come to lay their eggs to the beaches near Sámara. But Playa Grande, next to Tamarindo is visited by the leatherback turtle, a huge and endangered reptile that finds the last refuge in this beach.
Mammals are sometimes difficult to see, but several places have night tours where you can spot kinkajous, ringtail cats or raccoons trying to find a late night meal. Nevertheless, there are parks, such as Manuel Antonio where is always easy to enjoy the company of the squirrel monkeys and even a deer that feels very comfortable with people. Peccaries, large cats, tapirs and other forest dwellers are more difficult to see. A trip to the Turrialba mountains with a local guide could be the way to get this kind of adventure.
If your thing is to relax and contemplate your tropical garden being visited by butterflies and hummingbirds, don't hesitate to explore all corners in Costa Rica. The perfect place for you might be waiting for the next turn.