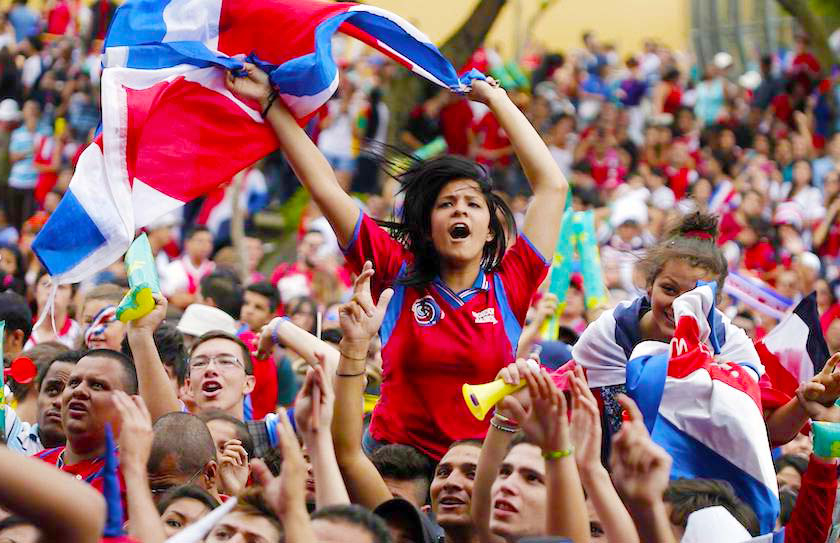 If you were anywhere in Costa Rica on Tuesday following the 0-0 tie against England that consolidated Costa Rica's place at the top of Group D, you know that Ticos are bursting with pride for its national team. Throughout the streets, people were cheering, horns were blaring and total strangers were hugging; stores ran out beer and bars were packed with celebration. It seems the "underdogs" are taking the World Cup by storm.
Costa Rica's story has not only defied the odds, but has also brought global attention to the country, and the attention is not just on its success in soccer. One example is the Costa Rica promotional video that airs before the games and which has received very positive global feedback, especially on social networks. The video shows Costa Rica's natural beauty and positions it as an ideal place for relaxation and tourism. It also shows diversity in industries and the people of the nation and their passion, making the video excellent vehicle for promoting investment opportunities.
People more than ever recognized the name Costa Rica. President Solis has said, "[people] start to look it up on the internet, see the spheres, the fact that we don't have any army, that we have a strong democracy; I think the culmination of all this will be a help to us."
Bloomberg, the premier business and financial market news outlet, has recently aired an interview with Costa Rica's Ambassador to the U.K., Pilar Saborio de Rocafort. The subject for discussion wasn't just the incredible World Cup matches, but also the rewards of doing business in Costa Rica. The interview sheds light on how economically diversified Costa Rica has become. Thirty years ago, commodities such as coffee and fruit were 50% of Costa Rica's export. Today, that number is only about 10%. This expansion and diversification translates to more diverse opportunities for investors.
Throughout Costa Rica, it's clear what the national team's achievements mean to its people. The country is brimming with pride for its soccer team. It gives the nation the feeling that anything could happen. It's this kind of spirit that draws people to Costa Rica and as the world learns more about Costa Rica and it's people, as we learned this World Cup, the possibilities are limitless.