by Properties in Costa Rica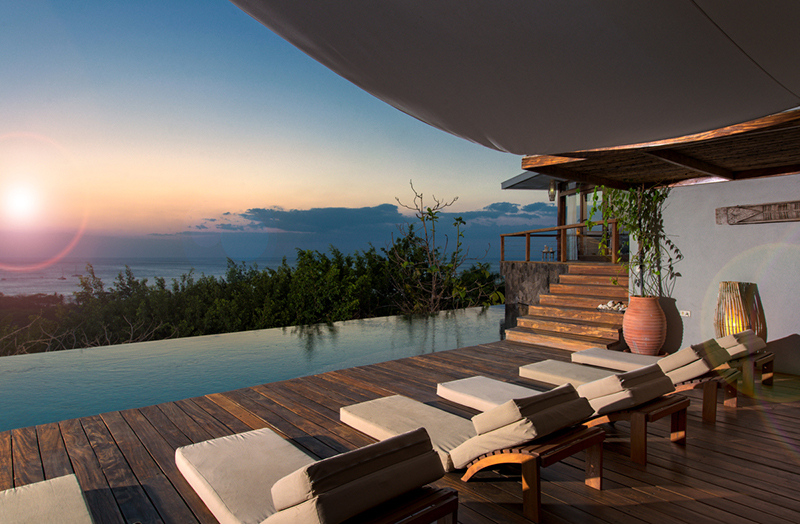 If you are looking for a relaxed warm friendly beach town, explore Tamarindo. A popular spot for expats relocating to Costa Rica, it attracts visitors from Europe, Canada and the US. The town's mantra is "surf, eat and party." Located in the Nicoya Peninsula of the Pacific Coast in the Guanacaste province, it is relatively accessible and only a 50-minute drive from Liberia International Airport.
The area has undergone a development boom expanding into the surrounding coastal communities. There are several supermarkets, a couple of banks, a farmers' market and a handful of boutiques and surf shops. With a selection of upscale restaurants and bars, the town also has a lively nightlife to kick back in the evening after a packed day of outdoor adventure. There is also a strong wellness community in the area with plenty of opportunities for yoga, pilates, a facial or even a body scrub. With juice bars, sushi, Mediterranean food and more, this multi-cultural destination does not lack in culinary options either. With near perfect weather, there is always something to do in Tamarindo.
Tamarindo has three kilometers of one of the most beautiful white sand beaches you can find anywhere in the world. This surfers' paradise has two professional level breaks: Pico Pequeno and El Estero. Here the waves rise as high as 12 feet in November and December. Along the coast, there are also many smaller breaks perfect for the beginner just learning how to surf. Other outdoor activities include: sport fishing, swimming, snorkeling, hiking and horseback riding. There's also golf nearby. The Tamarindo National Wildlife Preserve is also a great place to hike the forest spotting wildlife and bird watching. The area neighbours Central America's largest mangrove estuary, Estero de Tamarindo. For the eco-tourist and outdoor adventurer there are plenty of activities to enjoy here. There are many opportunities to relax, rejuvenate and take a breath here as much as there are for adrenalin pumping adventures.
During the tourist season, this town's population swells from 500 to 5000. Attracting visitors from all over the world, Tamarindo is known as a place that has integrated the influence of foreigners into the native Tico culture nicely. Tamarindo's small town cosmopolitan vibe makes it a popular spot for expats moving to Costa Rica who want to live in pristine place that is accessible to major airport. The town is the perfect escape from the hectic hustle of Western cities. Tamarindo offers the best of both worlds with its laid-back vibe and cosmopolitan flare. It's a vibrant beach town that welcomes both expats and visitors escaping the high stress life of major cities.