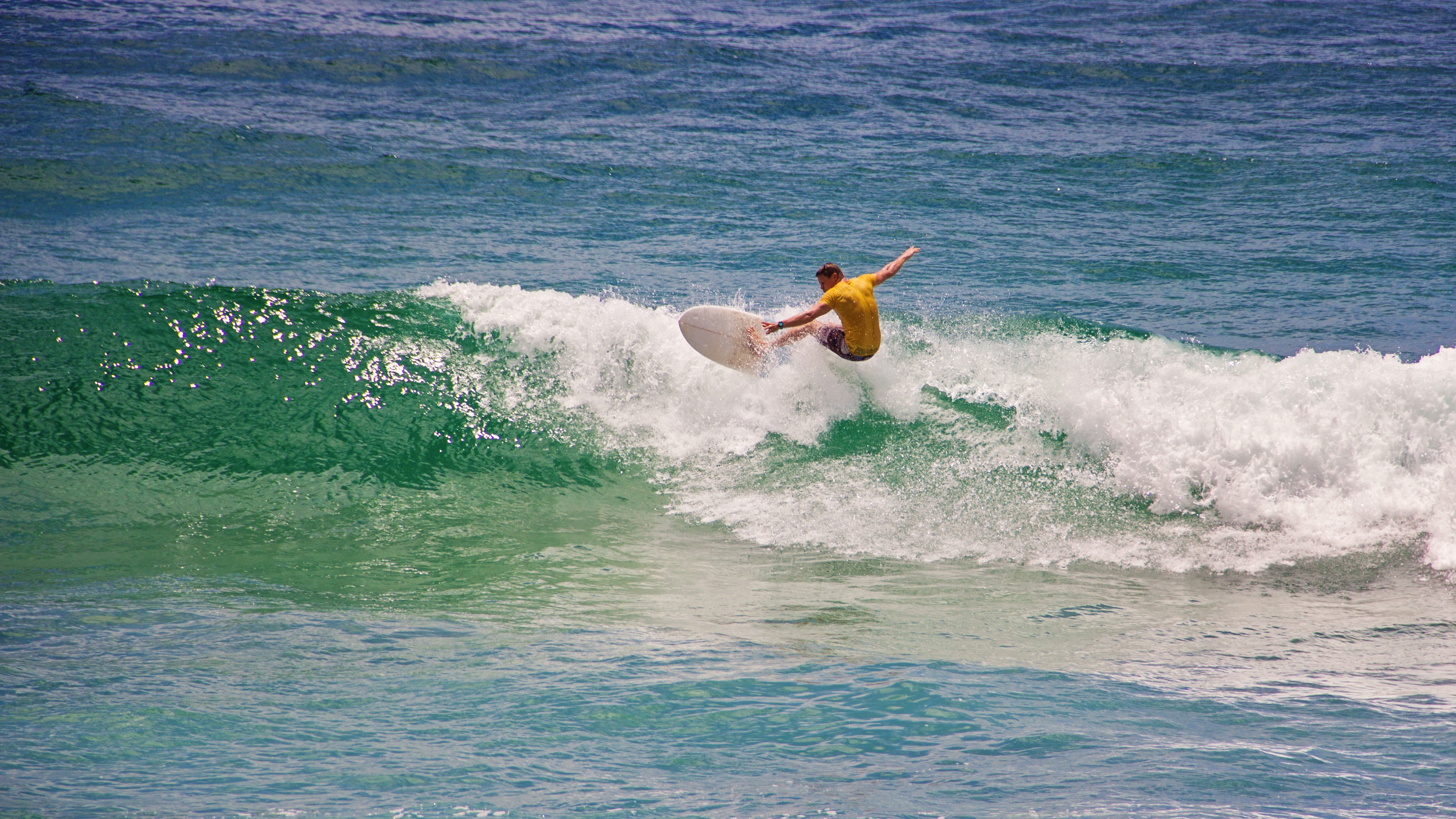 Surfers
October 12, 2018
Properties in Costa Rica
Costa Rica is known worldwide as the quintessential tropical paradise for both mountain and beach lovers alike, and with so much nature to offer, it is no surprise its number one industry is now ecotourism, holding the #1 spot for the top visited countries in Central America for this exact same reason.
Many of these visitors come to Costa Rica because of its beautiful coasts, which extend for 1,228 Km, with shorelines on both the Pacific Ocean and the Caribbean Sea, and the most common activity on these areas, especially in the Pacific, is definitively surfing.
The northern Pacific area of Costa Rica, and its tropical dry forest, with its sunny days most of the year, even during winter; you will get the perfect description for paradise, commonly known as the Gold Coast of Costa Rica.
Guanacaste has approximately 180 Km of shoreline completely open to the Pacific ocean, and given its volcanic rock formation, you will find some of the best surf breaks nestled in its magnificent beaches, from Ollie's Point and Witch's Rock up north, to Playa Samara in the southwest.
Right in the middle of Guanacaste's shoreline, you will find a collection of great surf spots among the most touristic towns, perfect for seasoned surfers and beginners alike, and easily accessible through paved roads.
Among these fantastic surf spots, you will find a nice point break in the north end of Flamingo Beach, with white sand and turquoise waters that create hollow waves over a coral reef break, and a beach break in Brasilito Beach, with a sandy bottom and waves that break from the left; followed by the most known spots in the area: Playa Grande, Playa Tamarindo, Playa Langosta and Playa Avellanas.
At Playa Grande, you will find a beach break with long rides and barrels, breaking at both right and left. Playa Tamarindo offers 4 different surf spots: El Estero, a river mouth break over a sandy bottom, Pico Pequeño, that even though offers small waves is not recommended for beginners due to its rocky bottom, Capitan Suizo, a small beach break, and Isla Capitan, an exposed reef break recommended for experienced surfers.
Playa Langosta offers a river mouth break over a sandy bottom, with strong and fast waves posing a fun challenge for advanced surfers. Playa Avellanas, with its 5 different points, is one of the most visited surf destinations in the area, this because its breaks are suitable for both beginners and advanced surfers. La Purruja, on the southern end of the beach, is a right-hand reef break best surfed during the rainy season, from May to November. El Parqueo, a nice beach break that offers a good spot for learners, as its waves break in both directions, is best surfed during the dry season. El Palo, a second beach break, offers nice barrels and perfect waves at high tide. El Estero, a river mouth break with right and left breaks over a rock and sand bottom, and finally, Little Hawaii, a right-hand break over a rocky bottom that can reach heights of up to 6m, perfect for advanced surfers and a favorite among locals.
Further south you will find Playa Negra, an internationally-known spot that breaks over a reef, with fast and hollow waves offering a fun challenge for seasoned surfers; whom can also enjoy Playa Junquillal's beach breaks, which go in both directions, and a left-handed reef break, producing tall and hollow waves.
Last but not least is Playa Marbella, with its two surf spots: Playa Coco and Playa Frijolar. Coco is a beach break with large and hollow barreling waves, breaking both left and right, and most suited for experienced surfers, especially during large swells. Frijolar is the perfect spot for learners, given its left-hand point break over a sandy bottom, which produces hollow waves and barreled sections when the sand dunes are in the correct spots.
No matter how advanced your surfing is, and even if you have never even touched a surfboard, once you see any of these beautiful beaches and their amazing surf spots, you will instantly feel to urge to ride a wave, and who knows, maybe, as it has happened to many, you decide to stay and try them all, which we hugely recommend! Take advantage of the popularity of these surf spots and their ample real estate market, and find your home away from home in any of these areas with our help.